Blog #274
In my last few blogs, I have talked about helping senior leaders transition from being doers to legitimately effective leaders. I have discovered that senior leaders need to do the following three things for this to be a successful transition:
Truly start thinking
Become teachers, facilitators, and coaches
Build communication and trust
Last week's post focused on becoming teachers, facilitators, and coaches. In this post, we will discuss the importance of building trust and communication.
In my experience, most leaders are lacking trust that their direct reports are taking care of the things that need to be taken care of. And if they are completing tasks, are they doing it in a way that makes the senior leader comfortable? In other words, it is not uncommon for a senior leader to believe that no one else in the company is losing sleep about the same things they are losing sleep over, such as worrying about the big picture, the direction of the company, or key relationships.
This assumption is often incorrect. Many senior leaders are not fully aware of what the team is doing due to poor communication or because they have not created an environment of empowerment and trust within the organization.
When leaders begin transitioning to acting as teachers, facilitators, and coaches, clear communication, expectations, patience, and trust become crucial. Remember, most people are crappy psychics. It is the obligation of the senior leader to let their direct report know exactly what they will be accountable for. And then repeat it. And repeat it again. Then, ask the direct report to repeat it back. A big, important step is to keep things simple while ensuring that both the senior leader and direct report are 100% confident in the vision of what great looks like. Do not move the target! If you don't know exactly what you are looking for, own it then work to clarify it with your direct report to ensure you are always on the same page.
I know this part may sound a little redundant…but remember, most senior leaders who have been long-time doers are extremely effective at "doing"; however, this does not mean that their direct reports have the same skill sets to be effective on their own just yet. Try not to take any step for granted. Get your direct reports to walk you through the process as if they were teaching you. Perhaps you will learn something, perhaps you will teach something. More importantly, you are clarifying with each other so you are on the same page. This begins to build a confidence base in knowing that some of the key responsibilities are being addressed in ways that the senior leader is comfortable with. Once the senior leader has clearly communicated their expectations, they typically begin feeling more comfortable and confident knowing that the daily functions are covered.
Now, it is time to address how challenges are approached within the organization.
The next step involves communication, accountability, and teaching. Just as the clarification of expectations, outcomes, and processes builds empowerment, understanding the issues that arise, potential threats and how to resolve them, and a consideration of the possible outcomes also build trust.
In Larry Linne's book, Make The Noise Go Away, he introduces a matrix that can be used to address this accountability and consequences idea.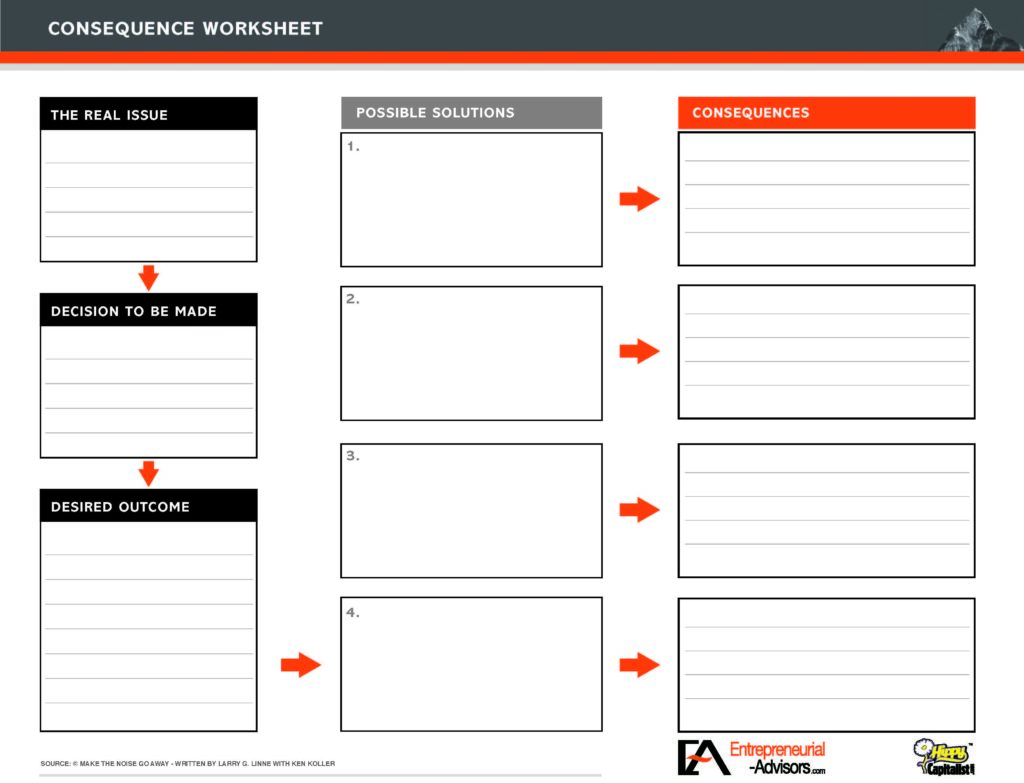 This tool helps to teach both direct reports and senior leaders. For the senior leader, it provides comfort in knowing that the main concerns are being identified. It also assists senior leaders with seeing how the direct report is thinking and that they are considering multiple options. For the direct report, this tool is a forcing device to work on clarifying the true issue, exploring a variety of ways to resolve that issue, and determining the related consequences associated with each possible direction. At this point, with a completed worksheet, it becomes much easier for the senior leader to coach and trust.
In the beginning, more meetings for coaching and teaching may need to happen; over time, the frequency of meetings will dissipate as trust increases.
Eventually, the senior leader will know that someone else is missing sleep thinking about the critical things, yet will be assured that things are addressed in a comfortable and efficient way. As that trust builds, the senior leader can let go even more to focus on the really big stuff: areas that need their attention and are truly the best use of the leader's talents and time.
To be clear, trust does not mean an elimination of communication or accountability. Utilizing straightforward metrics and consistent communication will keep things on track – this is key! Finding the cadence that is right for the relationship will provide long-term dividends.
For senior leaders to break through and realize their highest and best use, they must be willing to do a candid self-assessment; define their direction; transition to becoming teachers, facilitators, and coaches; empower their people; and evolve from doers to true leaders.
As a senior leader, do you have clear communication and trust with your team? Are you interested in learning how to transition from being a doer to a true leader? We can help with that! Reach out to us today to learn more.
Keep Smiling,
Kris