You know you want more, but not sure how to get there?
Then these retreats are for you.
Offsite luxury resort or adventure trip
Fully facilitated by authors Kris and Reka Kluver
17 exercises to achieve:

Initial Life Balance Wheel Review
Identify and define what success looks like
Discovery of a Life-Changing Goal (LCG)
Spousal alignment around shared values (True North)
Clearly define Annual Goals
Define and document a clear path to achieve goals
Creation of Quarterly Objectives
Creation of a Bucket List of dreams
Ongoing weekly process to ensure communication and accountability
Instructions on how wash, rinse, and repeat

Apply to join on scheduled dates April 5th-7th and November 1st-3rd

Limited to eight couples per session
Location to be determined
Private rooms
Shared common area
Professional chef

Arrange for your own group to bring in Kris and Reka to facilitate your retreat.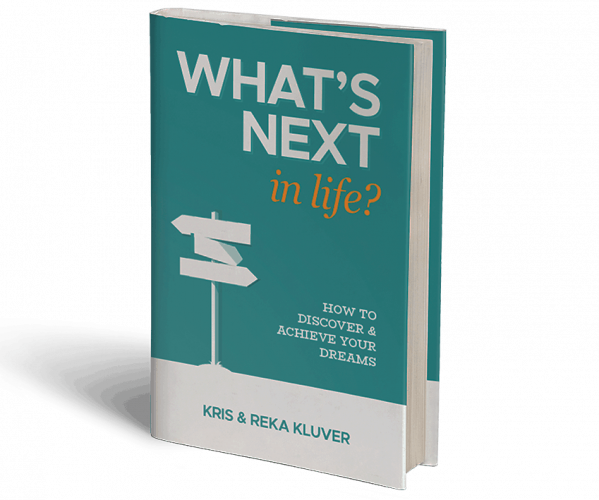 This book is for you.
Combine a couples therapist, Reka Kluver, with a type-A personality strategist, and this is what you get.
A conversational, step-by-step guide with 17 exercises to help you:
Define what success looks like on your terms
Discover your Life-Changing Goal (LCG)
Ensure partner alignment
Break it down into bite-sized, attainable chunks
Document it all
Create date night and retreat cadences to achieve more than you ever thought possible
Book Kris and Reka Kluver to Facilitate Your Retreat.
If you are looking for help discovering What's Next, please contact us to explore what a custom retreat could look like for you and your group.